1. To access Brainfuse through the Mobile Application, download the Brainfuse App in the Google Play Store (Android) or the App Store (iOS):
2.
Once you've downloaded the Brainfuse App, open the Brainfuse application, you may simply login using the credentials for the account you created.
3.
If you do not have an account, to create an account please see the following instructions:
a.
If you are a library patron and don't have a username/password, go to your institution's website, select the Brainfuse HelpNow page.
b.
Select "Login" button on the top right corner of the Brainfuse home page and select "Sign Up" on the following page.
4.
If your institution utilizes single sign on – and your account is automatically generated for you, please retrieve your account credentials by following the instructions:
a.
Once logged in, mouse over your username under the "Logout" button. Select "My Account" from the dropdown menu.
b. When you select "My Account," you will be redirected to your account's page. On this page, you can see your login information.

5. Once your Brainfuse account has been created/retrieved you can simply enter in your login credentials on the APP: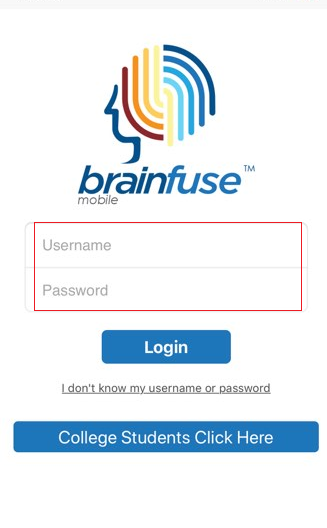 6. Once logged in, you can connect with a live tutor, access the Writing Lab, review past sessions, and utilize other Brainfuse Tools.
Thank you for using Brainfuse!