Brainfuse Lessons During Live Tutoring Session
At times, a student (or parent) may enter a live tutoring session seeking help without an assignment or homework. In these instances, tutors can access Brainfuse Lessons to upload sample questions, lessons, or content to the whiteboard for use during a live tutoring session.
If a user requests assistance without an assignment, clients expect tutors to do their best to offer support by providing a lesson, practice problems, or related content to the concept or area requested by the user.
Accessing Brainfuse Lessons: Follow the steps below to access available Brainfuse Lessons during a live tutoring session.
1. Select the paperclip icon next to the chat entry field in the Quick Connect. From the options noted, select Share from CloudPack
2. When your CloudPack window opens in the QuickConnect, select Brainfuse Lessons from the options available.
3. Once Brainfuse Lessons is chosen, navigate the folders to identify the lesson you want to load. Note that the count displayed for each item refers to the number of sub-folders, not lessons.
Loading Brainfuse Lessons: Follow the steps below to load an available Brainfuse Lesson to the Brainfuse Whiteboard during a live tutoring session.
1. Navigate to the folder and lessons you would like to load to the Brainfuse whiteboard following the steps above.
2. When you have identified a lesson to upload to the whiteboard, select the lesson to open the details. Then select the checkmark icon
in the lower right corner to add the lesson to the whiteboard.
3. When the lesson you want has been selected, it will automatically be added to the whiteboard. You can now close the Cloudpack pop-up window. This window is accessible again by following the steps above to access Brainfuse lessons.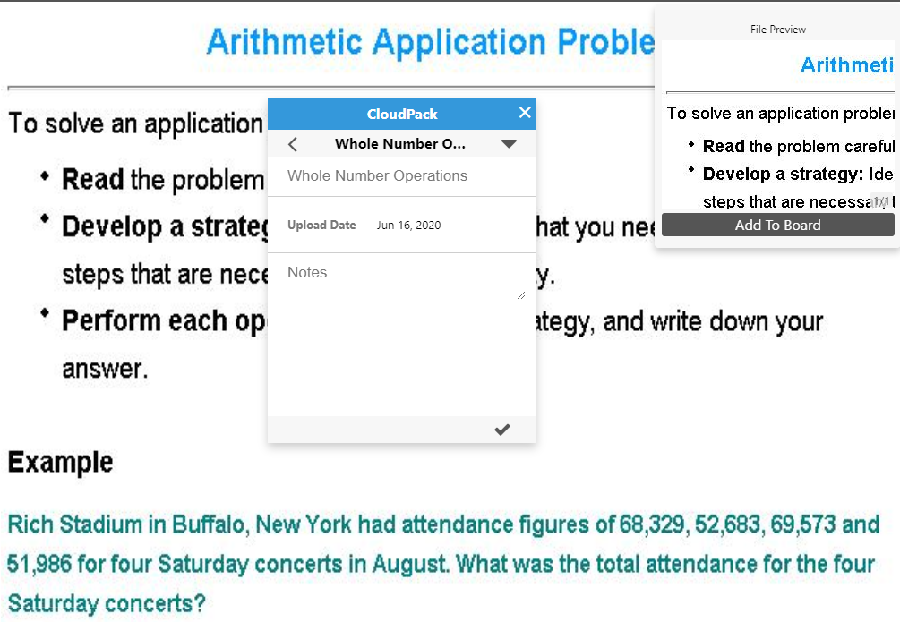 Using Brainfuse Lessons: The details below outline the unique features available in the Brainfuse Whiteboard during a live tutoring session when a Brainfuse Lesson is added to the whiteboard.
Active Whiteboard Tools: When a lesson is added to the whiteboard, the lesson is added with all whiteboard tools still available for tutors and students to use with the lesson. Whiteboard tools are enabled when the Whiteboard button is active.
Inactive Whiteboard Tools: Tutors can choose to disable all whiteboard tools for the student and tutor by selecting the image button. Whiteboard tools are disabled when the Image button is active, like this:
K-12 Brainfuse Lessons
English/Language Arts
Mathematics
Writing & Grammar
Spelling
Social Studies
Science
Standardized Test Practice
Fun Language Arts Activities
Fun Math Games
Links and Resources
Literature Summaries
Common Core/Core Lessons
Math
Reading
Speaking & Listening
Writing Process
Language (Grammar, Style, and Vocabulary)
Social Studies (Core lessons)
Science
Adult Education
Mathematics
Reading
Writing Lab
Social Studies
Science
Microsoft Office Training
Computer Programming
Computer Science
US Citizenship
TABE
LearnNow
Math
Language Arts
Social Studies
Science
Study Skills
Arts
Finance
Health
Career Certifications
Online Research Skills
Lessons
Videos
Adult Center Resources
GED
GRE
Microsoft Office
U.S. Citizenship
Canadian Citizenship
Resume
ACCUPLACER
Compass
Trade Workplace Mathematics
Interview
HiSET
TASC
ResumeTemplates
InterviewTips
Resume - Canada
Academic and Career Entrance (ACE)
VetNow
JobNow
1.0 What can JobNow do for me?
2.0 What job is right for me?
3.0 Where do I find jobs?
4.0 How do I apply for jobs?
5.0 How do I do an interview?
6.0 How do I know which job to accept?
7.0 Brainfuse JobNow Account Specific Sites
8.0 How do I get a job?
Advice for COVID19
Unemployment Assistance
JobNow en Español
Supplemental Skills
Summer Camp
Elementary Math
Elementary Science
High School Math
High School Science
Middle School Math
Middle School Science
Math Activities
Science Activities
Elementary ELA
Middle School ELA
High School ELA
Elementary School Social Studies
Middle School Social Studies
High School Social Studies
Additional Support: Below are some additional details about content available for students and tutors.
1. Students have access to lessons, videos, practice tests, and more for self-paced learning through their Brainfuse account. Students can select any of the following features for additional content or self-guided learning:
a. SkillSurfer: This feature provides students access to a library of content
b. Flashbulb: This feature provides students access to a library of flashcards and study tools
c. eParachute: This feature provides students access to helpful career and college major guidance
d. LEAP: This feature provides students access to a personalized learning plan and practice exams
2. If a tutor has access to content or lessons that they prefer to use with students, tutors may upload these third-party resources when necessary. Clients expect any third-party resources used during a tutoring session to fulfill the following requirements:
a. Content is accurate
b. Content is neutral and unbiased
c. Content is ad-free
d. Content aligns with best practices, educational standards, and student needs
3. If a tutor encounters lesson or curriculum requests that are seemingly missing from Brainfuse Lessons, please email [email protected] with details about the missing lessons. Our content team will review the feasibility of expanding lesson content for students in the noted area.