Accessing Brainfuse on a Mobile Device through the App
To access Brainfuse through the Mobile Application, download the Brainfuse App in the Google Play Store (Android) or the App Store (iOS):
1. App Store (iOS):
a. https://itunes.apple.com/us/app/brainfuse/id575242780?mt=8
2. Google Play Store (Android):
a. https://play.google.com/store/apps/details?id=com.brainfuse.android&hl=en_US
Logging in to your Brainfuse Account on the Brainfuse App
Once you've downloaded the Brainfuse App, open the Brainfuse application.
1. Option 1: If you log in to Brainfuse with a Brainfuse username and password, simply enter your credentials into the app and click Login
a. If you do not know your username/password, please see Option 2
2. Option 2: If you access Brainfuse through your student portal or learning management system (Blackboard, D2L, Canvas, Moodle, etc.), you likely don't know your Brainfuse username and password. To log in to your Brainfuse account in the Brainfuse App, simply access ­My Account from the drop-down menu that appears when you hover over your name.
a. My Account will reveal a QR Code unique to the user. Using your mobile device's camera app, focus on the QR code and click the link that appears. This will open the Brainfuse mobile app and automatically log you in.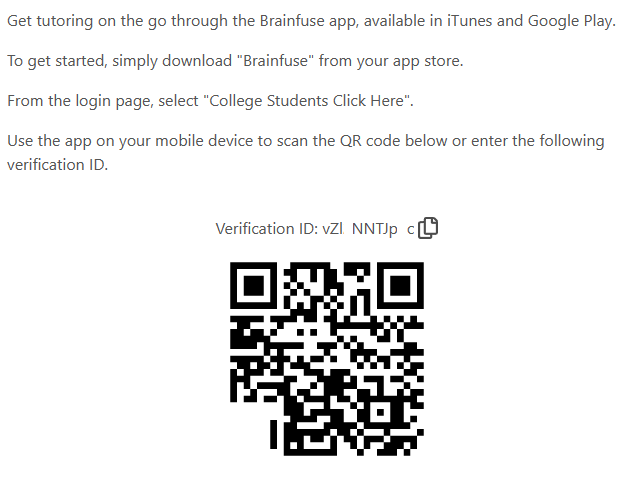 3. Once logged in, you can connect with a live tutor, access the Writing Lab, review past sessions, and utilize other Brainfuse Tools
For administrative questions or assistance, please email [email protected].
Thank you for using Brainfuse!