Brainfuse
NAVIGATOR
GUIDE
Terms & Definitions
Some common terms appear throughout the Navigator Guide; please see below for definitions!
Navigator - One of Brainfuse's expert assistance providers, along with our Online Tutors and Job Coaches. Brainfuse Veteran Navigators are assistance providers with an expertise in United States veterans' affairs, resources, questions, and more. (At times, you will see screenshots in the Guide and automated messages from our system use the terms "Tutor" and "Navigator" interchangeably -- Navigators, much like Job Coaches, are considered specialized tutors according to our system.)
Veteran/User - Customers of Brainfuse that access our services for live support and supplemental content, you will often see the term "Veteran" and "User" used interchangeably. (This is because not all Users that connect with a Navigator will necessarily be a Veteran -- they might be a family member or curious non-veteran customer, all of whom you are able to assist.)
Subscription - Brainfuse's clients are institutions -- often colleges, libraries, school systems, etc. -- that subscribe to different suites of services for assistance from our live experts. These subscriptions include HelpNow, JobNow, VetNow, and the JobNow/VetNow hybrid program. All of these are described in more detail within the Guide.
V.A. - Abbreviation for the United States' Department of Veterans Affairs, this is a primary resource for Navigators and Veterans in applying for benefits, identifying available resources in healthcare and housing, and much more.
CalVet - The California State-specific Department of Veterans Affairs. Brainfuse's JobNow/VetNow hybrid program is provided to California State citizens in partnership with the California State Library and CalVet, through their collaborative program called "Veterans Connect @ The Library" (AKA "VetConnect"). Individual libraries that elected to host this program received grant funding to establish their own local veteran resource center, its primary purpose being to connect veterans and their families to their local county Veteran Service Office to apply for V.A. benefits. In addition, the resource center invited local agencies and organizations to be part of the center's community resource directory for employment, education, healthcare and housing resources. The VetConnect model was Brainfuse's primary inspiration when developing VetNow.
Veteran Resource Directory (VRD) - Brainfuse collects and compiles several nationwide and local resources for Veterans within its Veteran Resource Directory (or VRD), which is included in a later part of this Guide and is continually updated. Please refer to the VRD if ever a User requests a specific resource, as these have been selected specifically for their benefit.
Tutors - Brainfuse provides comprehensive online academic support via its HelpNow service to subscribing clients; in addition to live Navigators, Brainfuse also offers live assistance from academic tutors in a variety of subjects across all grade levels (K - College).
Job Coaches - Brainfuse provides professional and career support online through its JobNow service to subscribing clients; in addition to live Navigators, Brainfuse also offers live assistance from professional coaches in areas such as resume assistance, interview assistance, and more.
PART I: Brainfuse Orientation
CONGRATULATIONS, AND WELCOME TO BRAINFUSE!
If you are reading this document, it means you have been hired as one of Brainfuse's Veteran Navigators -- an online assistance provider with expertise surrounding veterans of the United States Armed Forces and the resources and benefits available to them. Our Navigators are made available via our online platform to help veterans and their families with questions surrounding their available benefits, assistive resources, and many more veteran-specific concerns. We're thrilled to have you as part of the Brainfuse family, and are looking forward to the positive impact you're going to have both here and on the users you will be assisting.
As part of the onboarding process, please read through the Navigator Guide, beginning with the below topics. This Guide will provide you with information on how to begin using your Navigator account, resources to supplement your sessions with veterans, answers to general questions you may have about Brainfuse and getting started, and a lot more. If you have any specific questions, please contact your hiring manager.
- Ethics: Brainfuse requires Navigators to sign an Independent Contractor Agreement and Non-Disclosure form -- by this stage, you will have already completed and returned these documents, affirming your adherence to Brainfuse's expectations. Since Brainfuse partners with client organizations (colleges, libraries, schools, etc.) to provide assistance to their respective populations, we expect our Navigators to adhere to our clients' standards as far as behavior, expertise, feedback and behavior with users is considered. You may refer to the "Online Best Practices & Resources" section of this document for additional guidance; for any questions not covered by these documents, please feel free to contact us at curriculum@brainfuse.com.
- Payroll: All Navigators are independent contractors and are not employees of Brainfuse. For tax purposes, Navigators are required to complete a W-9 form (which, by this stage, you have likely already completed). Taxes are not taken out of the Navigator's paycheck. A 1099 form will be sent to a Navigator if more than $600 is made in a year. If the Navigator makes less than $600 in a year, a 1099 will not be sent, unless otherwise required by applicable law (however, the Navigator is still required to include the amount in their tax return).
Please note that Navigators are paid by the hour, and that calculation of live veteran assistance support time is done automatically by our system. If you have any specific questions regarding payment, please email payroll@brainfuse.com.
- Scheduling & Attendance: As part of your Navigator account set-up, you will be asked to enter your general availability (also known as your "Preferred Schedule"). In instances where you require shift coverage, wish to notify a manager of a potential absence or emergency, or have any questions related to your schedule, please contact schedule@brainfuse.com. Brainfuse may also reach out to you directly with opportunities to pick up shifts when other Navigators are unavailable.
- IT & Technical Support: If you experience any issues while working through your Navigator account, or while assisting users in live sessions, please feel free to reach out to our tech team at (866) 272-4638, or via email at support@brainfuse.com.
- Navigator On-Boarding & Outprocessing: If you have received this Guide, that means you're already on your way to getting set up to assist users through Brainfuse. Your Navigator account credentials have been sent to you, your payroll information has been processed, and you will simply need to read through the information in this Guide to become familiar with the many features of Brainfuse and your Navigator account. Once completed, you will be all set to assist users in live sessions, and can always refer back to this Guide for resources or advice. Should you have any specific questions not covered within the Guide, or should you elect to no longer work with Brainfuse at any time, please reach out to us directly at curriculum@brainfuse.com.
About Brainfuse
Created in 1999, Brainfuse's mission is to connect people who want to learn with experts who love to teach. Brainfuse develops and provides internet-based learning solutions, including our comprehensive virtual classroom, 24/7 online expert support, asynchronous expert assistance services, and our wealth of online content, including interactive practice tests and video lessons on a variety of academic, professional and veteran-specific topics. Our philosophy is anchored on adherence to high standards and user-centered technology to build a better educational experience for learners of diverse backgrounds. Serving a growing client base consisting of colleges and universities, library systems, school districts, workforce centers and more, Brainfuse has become one of the world's leading online tutoring providers and continues to grow and improve upon its services.
Brainfuse's Portfolio of Services
Brainfuse offers several subscription services to clients, including HelpNow, JobNow, VetNow, and the JobNow/VetNow hybrid program, which are all outlined below for your reference. Clients can subscribe to all, a few of, or individual programs described. All of Brainfuse's different subscription services overlap their features in order to cast as wide of a net as possible when assisting a client's users. (For example: some features of JobNow, like eParachute, appear in HelpNow, and vice-versa; however, HelpNow is still primarily an academic-oriented assistance service.)
As a Brainfuse Veteran Navigator, your users will primarily be accessing help with you through the VetNow program, or potentially through JobNow/VetNow.
HELPNOW
HelpNow is Brainfuse's academic suite of services, which includes the following:
LIVE HELP: Live online tutoring available for users in a variety of subjects (Math, Reading/Writing, Science, etc.) across all grade levels (K - College).
WRITING LAB: An asynchronous service that allows users to submit their writing (essays, personal narratives, poetry, etc.) to Brainfuse's Writing tutors. Users receive feedback directly to their Brainfuse account within 1 business day.
SEND QUESTION CENTER: An asynchronous service like the Writing Lab, which allows users to submit subject-specific questions to Brainfuse's academic tutors, receiving a response within 1 business day.
SKILLSURFER: Our online content library, which includes a wealth of practice tests, text lessons, video lessons, interactive quizzes, and more, tailored primarily around academic content.
FLASHBULB: A resource that allows Users to create and view flash cards, which can be converted into studying games like crossword puzzles, matching column games, and more.
ADULT LEARNING CENTER: An alternate HelpNow experience, with Live Help and content (including practice tests and studying materials) catered to adult learners.
JOBNOW
JobNow is Brainfuse's suite of professional assistance services, which includes the following:
LIVE HELP: Brainfuse's live Job Coaches are available to help Users with their resumes, cover letters, job interviews, general career questions, and more.
RESUME LAB: An asynchronous service that allows users to submit their resumes and cover letters to Brainfuse's Job Coaches. Users receive feedback directly to their Brainfuse account within 1 business day.
SKILLSURFER: Our online content library, which includes a wealth of practice tests, text lessons, video lessons, interactive quizzes, and more, tailored primarily around professional content under JobNow.
JOB RESOURCES: A collection of job links, including search results and additional resources. These offerings include both nationwide and local area-specific job resources, customized a client institution's location.
RESUME TEMPLATES & RESOURCES: Downloadable documents and other useful resources to help Users begin or re-organize their resumes into new templates and formats.
ePARACHUTE: A career assessment tool that analyzes a User's responses to provide them with potential career options, as well as resources within those fields to begin or enhance a User's job search.
OPTIMAL RESUME: A service that allows Users access to hundreds of resume, cover letter and portfolio templates based on career type and position, as well as the means to host any documents created via Optimal Resume on a free website, potentially to include in their future applications.
VETNOW
VetNow is Brainfuse's suite of assistance services available to veterans of the United States Armed Forces, which includes the following:
LIVE HELP: Brainfuse's live VetNow Navigators are available to help Users, whether they are veterans themselves or family/friends of a veteran, with their questions regarding the V.A., local resources in the User's area, and their available benefits options.
VETERANS RESOURCES: A collection of links, both nationwide and local to a client institution's location, offering information on benefits and resources available to veterans, including options for healthcare, housing, education, and more.
SEND QUESTION CENTER: An asynchronous service which allows Users to submit questions to VetNow Navigators, receiving a response within 1 business day.
SKILLSURFER: Brainfuse's online content library, which includes a wealth of practice tests, text lessons, video lessons, interactive quizzes, and more, with a broad range of academic, professional and veteran-specific materials.
ACADEMIC & PROFESSIONAL RESOURCES: VetNow also includes access to some of HelpNow's and JobNow's tools to supplement a veteran User's academic and professional guidance. These include access to academic subject Tutors, Job Coaches for resume assistance, studying tools and test prep materials, and more.
JOBNOW/VETNOW (Hybrid Program)
Brainfuse's clients who subscribe to both the JobNow and VetNow services can elect to combine them into a hybrid program on a single page, referred to as JobNow/VetNow. This program contains all of the features of both subscription services in full, providing a broad range of career and veterans-specific assistive services and content.
PART II: Brainfuse Navigator Account Guide
Your Brainfuse Navigator account, which will allow you to assist VetNow and JobNow/VetNow Users, will be sent to you directly via email along with this Guide. In order to get started with assisting users, go directly to the Brainfuse Login Page (www.brainfuse.com/login), enter your provided username and password credentials, then click "Login".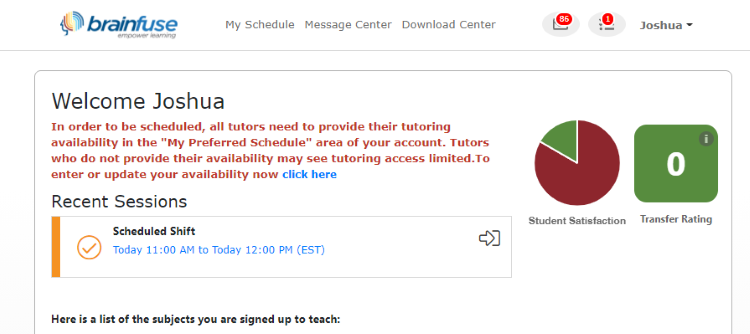 Once you log in, the above page will display for you - the Navigator Homepage. The following menu icons appear on top: My Schedule, Message Center, and Download Center. You will also see the Envelope Icon, Clipboard Icon, and your name on top of the page.
My Schedule opens up 3 menu options: My Calendar, My Preferred Schedule, and My Tentative Sessions.
● My Calendar: This page displays your shifts for live assistance if and when you are scheduled (please see My Preferred Schedule for an explanation of this process). You can view your full schedule by clicking on View All Schedule icon on the bottom, or you can choose a specific date to see your schedule for the day. You can also change your time zone from this page.
(When your My Calendar begins to populate with your scheduled shifts, you will see the indicator "IA" appear. This refers to "Instant Access," where you are scheduled for a block of time and you connect with Veteran Users as they sign onto Brainfuse with their questions.)
● My Preferred Schedule: In order to be scheduled for sessions, Navigators must enter their availability in their Navigator account via this page. Please visit the following link for information on setting and updating your availability: http://customer.brainfuse.com/default.asp?W136. If you have scheduling issues or questions, please reach out to schedule@brainfuse.com.
● My Tentative Sessions: This feature is not in use at this time.
Message Center opens up 2 menu options: My Inbox and My Brainshare.
● My Inbox functions the same as the Envelope and Clipboard icons on top of the Navigator homepage. Click any of these options and you will see 3 tabs appear: Inbox, Tasks, and Outgoing Tasks.
o Inbox is a built-in notification system within your Navigator account, but is generally not used at this time.
o Tasks is where you would see User-submitted questions (via the Send Question feature) for which you are screened to provide feedback, comments, or step-by-step guidance. You will only see those submissions from Users which you are approved to accept - specifically Veterans-related questions. When you see a task assignment and accept it, Brainfuse Users expect the Navigator to complete the User's submission. Brainfuse Users expect Navigators to follow the templates and guidelines for providing feedback, which are shown in the "Completing Submissions" section later in this Guide.
o Outgoing Tasks is a feature that is not in use at this time.

● My Brainshare allows you or a User to exchange documents in real time. Clicking on the Brainshare button opens a pop-up window that allows a Brainfuse User (Veteran or otherwise) to browse and send a document to the Navigator in real time. Whatever the User sends, or the Navigator sends to the User, is stored in the My Brainshare page. Both Users and Navigators can access My Brainshare through their respective Whiteboards (while in a live session), or their homepages. On the Navigator Whiteboard, My Brainshare is found under the "Favorites" menu. Users can use Brainshare even if they are not registered with Brainfuse.
▪ Brainfuse Users can view documents that were previously sent to their Navigators, whether they were sent through a live session or via the Send Question feature, under their "Message Center". (In order to access the Message Center to review previous documents, Users must register a Brainfuse account; if they have not already done so, you may direct them to the "Login" link on their homepage, where they will then see the option to "Sign Up" if they have not already done so).
▪ When you send documents to Users, whether it be through Brainshare or the Send Question Center, be careful with how you name the file. Our system does not recognize most symbols, meaning that the document will not open for the User. Please stick to numbers and letters when naming documents to send to Users.
▪ If the User says that the Brainshare icon or File Share link (the paper clip icon on the Whiteboard, which is described later) is not opening for them, please ask the user to turn off their pop-up blocker and to check their computer/web browser settings.

Download Center is where Navigators must go to download Brainfuse's virtual Whiteboard classroom for live sessions, the software for which is called QuickConnect. To get started with QuickConnect, select the correct operating system for your device (Windows or Mac OS) and follow the prompts. An explanation of the QuickConnect features can be found in the "Navigator Whiteboard" section later in this Guide.
By hovering over your name in the upper right corner of the page, additional menu options can be accessed. These options include:
● My Account is where you can view and edit your personal information, including your payroll information. (If you move addresses, in order for payment to be processed without delay, Navigators need to update the address and other information immediately. If you change your bank and you opted for direct deposit, please notify our payroll department immediately at payroll@brainfuse.com.)
● My Timesheet is where you can view your timesheet, logged automatically by Brainfuse's system. If you have questions about your pay, send an email to payroll@brainfuse.com with your username and a brief description of the issue. (Calling the office will only delay the payment process. However, if our payroll department does not respond within 3-4 business days by email, you can call 1-866-BRAINFUSE and leave voicemail at Extensions 513 or 519.)
● My Session Logs is where you can view all of your previously-completed live sessions with Users. You can click on the "Play" icon to watch a full video playback of the Whiteboard session, or click on the session name link to view a transcript of the chat log in a pop-up window.
● Student Satisfaction is where you can view previous Users' comments and ratings regarding your sessions. If you do not see anything listed, it simply means users have not left a rating or comment about a session with you yet. You can also access this page by selecting the "Student Satisfaction" icon on the homepage. (Although the term "Student" is used here, this is simply a Brainfuse system identifier; in this case, any feedback Navigators receive would be from Veterans or other Users.)
● My Subjects is where you can view all of your approved subjects for live assistance. As a Brainfuse Navigator, the only subject you should see chosen is "VA Support", which is what you are approved to assist Veterans and other Users with.
Providing Live Assistance: Navigator Whiteboard
After launching the QuickConnect software to begin assisting Users in live one-to-one sessions, you will be brought automatically to the Navigator Whiteboard to conduct these live sessions. A description of the Whiteboard and its many features follows.
> Student/User Tabs – Depending on the User traffic, you may hear a "cuckoo" sound and see another User appear as an additional Whiteboard tab. It is a widely accepted industry standard to greet the extra user quickly so they know you're available to assist. To use our system, your speaker volume must be up on your computer at all times. You can also create multiple boards for the same user (click on "Add Whiteboard Slide" as shown above), as well as stretch the board horizontally and vertically (just type something at the bottom of the whiteboard until the whiteboard expands).
Whiteboard Tools: The following tools are found on both the tutor and student whiteboards. To take a tour of the whiteboard tools, click
on the upper-right corner of the whiteboard.
PEN: Write/draw with your mouse
EDIT: Move items on the whiteboard and resize any uploaded images
TEXT TOOL: Click on the Whiteboard to start typing. When you select the text tool, it will reveal the following text options:

SUPERSCRIPT: Changes text into superscript
SUBSCRIPT: Changes text into subscript
PASTE: Paste text onto the Whiteboard
FONT: Change your font style and font size
TYPE EQUATIONS WITH THE EQUATION EDITOR: The equation editor allows you to create mathematical equations, functions, and symbols in the available box. Click on the desired area of the Whiteboard where you want the equation to appear. When you are finished, click
.

SHAPES: Select a shape from the menu to draw it on the Whiteboard
NUMBER LINES AND GRAPHS: Select MIN, MAX and INTERVAL MODE
to adjust the minimum, maximum and interval values

STRAIGHT LINE: Draw a straight line on the Whiteboard

ERASER: Erase items from the Whiteboard
TOOL CUSTOMIZATIONS: Use the following options to customize the whiteboard tools to your preferences.
COLOR PALETTE: Select from the menu to change pen/text color
UNDO: Undo the last action
REDO: Redo the last undo action
CLEAR: Clears the entire Whiteboard
SIZE OPTIONS: Change the size of the pencil or eraser
UNIQUE WORKSPACES: Use the following options to change the workspace during a live tutoring session.
WHITEBOARD : This is the default workspace. Use this workspace to access drawing functions, equation features, and uploaded files. Any work in this space will be saved if you navigate to another workspace. Select this icon to return to the whiteboard workspace.
TEXT EDITOR: This is a text editing workspace. Any work in this space will be saved if you navigate to another workspace. Select this icon to return to the text editor workspace at any time. The options available in the text editor are below.
TEXT CUSTOMIZATIONS Change the appearance of your text by selecting your font type, font size color, and text appearance.
TEXT ALIGNMENT: Change the alignment of your text by selecting your outline type, indentation, and alignment style.
UNDO & REDO: Undo or Redo the last action within the text editor
CODE EDITOR: This is a code editing workspace. Any work in this space will be saved if you navigate to another workspace. Select this icon to return to the code editor workspace at any time. The options available in the code editor are below.
VIEW FILES: Hides or expands the file list in your code editor.
ADD FILE: Add a file to your code editor. Save your file with the appropriate programming language file extension in order enable code help and completion while working in your file. Multiple files can be saved in the code editor workspace at one time.

EDIT FILE NAME: Edit the selected file name. If you change the programming language file extension, the code help and code completion will automatically update to reflect the new code.

REMOVE FILE: Delete the selected file from your code editing workspace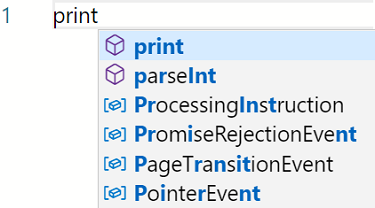 CODE COMPLETION: Working within a file that is saved with a valid programming language file extension will provide code completion assistance.
COMMUNICATION TOOLS: Use the following options to review and change the way you communicate during your live tutoring session.
SNAP-N-SEND: The Snap-N-Send feature enables you to scan documents, handwritten notes, or any other academic content and send it to the Brainfuse Whiteboard during a tutoring session. To use Snap-N-Send, simply download the Brainfuse Mobile App (iOS or Android versions) and follow the instructions to log into your Brainfuse account. During a tutoring session, select the Snap-n-Send feature from the mobile app, scan the desired material with your mobile device, and it will appear on your whiteboard.
PARTICIPANTS: View the participants active in the current live tutoring session
FILE UPLOADS: View the files already uploaded to the whiteboard. If more than two files have been uploaded, the first file can be accessed through the drop-down option in order to add it to the whiteboard again.
ADD WHITEBOARD SLIDE: Click on the Add Whiteboard Slide" to add another blank whiteboard to the session. This will also allow you to then toggle between screens
UPLOAD FILES TO SHARE WITH User: Click on the Upload button (bottom left of the Chat Box) to upload images, papers, or other assignments to work on them in real time with your student.
USE SCREENSHARING: This feature is only available if it is enabled on the user's account. This feature should only be used when requested by the student. Select the Screen Share button (top left of the Chat Box) to begin sharing your screen with the student. Clients expect tutors to maintain a professional desktop, window, or application view while screen sharing with a user.
USE VIDEO: This feature is only available if it is enabled on the user's account. This feature should only be used when requested by the student. Select the Video button (top left of the Chat Box) to begin using video with your student through a secure and private conference room. Selecting video will also prompt the tutor and user to connect via audio using your computer (VoIP) or a toll-free call. Clients expect tutors to maintain a professional background and appearance when using video with a user.
USE AUDIO: This feature is only available if the student selected the audio preference prior to entering a live tutoring session. Select the Audio button (top left of the Chat Box) to begin a call to speak with your student through a secure and private conference room, using your computer (VoIP) or a toll-free call. This should only be used if the student is unable to initiate audio. Clients expect tutors to remain professional when using audio with a user.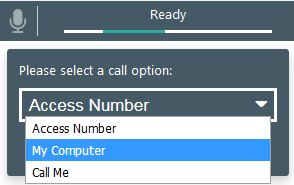 ACCESS NUMBER: Use your phone to dial a toll-free, secure conference number

MY COMPUTER: Use your computer and internet connection (VoIP) to connect to your student

CALL ME: Receive a phone call to connect with your student. Please note that your student will connect with you via our phone bridge. Students will not have access to your phone number.
Navigator Whiteboard Features
The following specific features are only found in the Navigator Whiteboard (using QuickConnect).
STUDENT/USER TAB OPTIONS: At the top of the Whiteboard, the User tab has an additional options menu (displayed as three dots; see screenshot below) that contains the following options for the Navigator to use during a scheduled session:
USER INFORMATION: View the User's username.
INVITE TO CONFERENCE CALL: Initiate Audio with the User (same as the Audio icon above).
REFRESH WHITEBOARD: Manually update the Whiteboard.
START DESKTOP SHARING: Begin screen sharing with the User.
SEND SCREENSHOT: Send a screenshot of the Whiteboard to the User.
SAVE WHITEBOARD DATA: Download the Whiteboard's current display information to quickly upload in the future.
SEND QUIZ: Send previously-viewed quizzes to the User.
MY HOME: View your account homepage.
MY SCHEDULE: View your current schedule.
MY SEESSION LOGS: View your previous sessions.
MY BRAINSHARE: View files previously sent to Users.
MY CLOUDPACK: View files saved in your CloudPack (see later section).
MY INBOX: View messages received by Users.
SESSION MONITOR: Contact the Live Facilitator for User transfers, or additional information that pertains to the current live session (see further information in "Best Practices" section of this Guide).
SEND TECHSUPPORT REPORT: Automatically send technical details about the session to the Brainfuse Tech Team for any technical issues encountered. Users and Navigators may also email support@brainfuse.com or contact the Tech Support line for additional assistance.
WRAP UP TIME: The "Wrap Up" feature allows Navigators working with a User to stop accepting new users 15 minutes before their scheduled shift ends. Navigators not working with a User can "Wrap Up" 5 minutes before their shift ends.
To enable "Wrap Up," simply select the clock icon found at the top of the QC (see screenshot). To disable, simply click on the menu option again and the label will disappear. Attempting to enable "Wrap Up" before this time will result in an error message. When selected, a red "Wrap Up" label will appear and Navigators will not be assigned new Users.
Wrap Up Disabled (new sessions allowed)
Wrap Up Enabled (no new sessions allowed)
MY CLOUDPACK & BRAINFUSE LESSONS: Navigators have access to Brainfuse-curated lessons and guides through the "Share from Cloudpack" option. This is accessible through the paperclip icon located next to the chat field (see screenshot). Navigators can also upload and save their own lessons or documents to their "My Cloudpack" feature. These files can then be uploaded to the Whiteboard from here, as well. Once a Cloudpack item is placed on the Whiteboard, the following tools are available for the Navigator:
Cloudpack Tools

Whiteboard: When a lesson is loaded, select this option to temporarily remove the lesson and view the Whiteboard.
Webshare: This option is selected immediately after a lesson is loaded. This option reloads/refreshes the lesson and disables the Whiteboard tools.
Markup Tool: When a lesson is loaded, select this option to enable the Whiteboard tools for mark up on the lesson.
Providing Asynchronous Assistance: Send Question Center
Brainfuse offers the Send Question Center services as part of VetNow, which allows Users to ask questions outside of regularly scheduled Live Help hours with Navigators. This service allows a registered User to submit a question, potentially including a document, to Brainfuse for a review by a Navigator.
Accepting a Submission
● When the request is received by Brainfuse, it is then sent as a User Submission (also may be referred to as a Task Assignment) to Navigators.
● User Submissions (Task Assignments) are sent to all Navigators, and the submissions show up in the Navigators' Tasks tab (via the Clipboard/Envelope Icon or My Inbox).
● Once a Navigator chooses to accept a submission, it will be removed from all other Navigators' tasks to prevent multiple Navigators from working on the same submission (in rare instances, it is possible for 2 Navigators to accept a task simultaneously).
**If you receive a message about a User's submission, but the submission is not in your available Tasks, it means that another Navigator has already accepted the submission. Additionally, if you have 0 submissions in your Tasks, this means there are no submissions available.**
● You can access your Tasks via the Navigator homepage. Click on the "Tasks" icon in the upper-right corner, where you will see all available submissions.

● Clients expect that Navigators carefully check the due date and time on a submission before accepting it. The due date/time is listed in the submission inbox and on the submission assignment. The due date column on the submission inbox makes it especially easy for a tutor to determine when a submission is due.
If you click on a Submission Assignment, you can view the question or uploaded document in greater detail. Clients expect Navigators to consider all submissions carefully before accepting them. This includes making sure the Navigator: 1) can open the file, 2) understands what the User is looking for in the question, and 3) will be able to return the submission file before the listed due date.
Reviewing Submissions
Once a Navigator accepts a submission, clients expect that Navigators review that submission in a timely manner. Submissions are always due by the due date and time indicated on the submission assignment, regardless of when the Navigator accepts that submission.
Time Allotments: Clients expect that Navigators adhere to the allotted time for submissions.

Time Allotment: 10‐18 minutes for Send Question submissions
**In the event that a Veteran or User submits an extremely long document, clients expect Navigators to review as much of the document as they can up to the maximum time allowed and then stop.
Client Expectations: Brainfuse's clients expect Navigators to review Users' submissions in a way that will best help the user receive assistance.

● Response Forms: Clients also expect that Navigators always use the correct Response Form when reviewing submissions. All of Brainfuse's Send Question Center Response Forms can be found here:
o http://www.brainfuse.com/jsp/curriculum/mgr.do?action=view&subType=6&catIDParam=132738&catNameParam=Writing%20Lab&objectCat=curriculumCat&viewStyle=
● When completing a review, the VetNow Send Question Response Form should always be used, which can be accessed through this download link or the address:
o https://www.brainfuse.com/curriculumupload//1494334114672.doc
● Because Users submit Word documents, .rtf files, and PDFs, clients expect that Navigators are working on a computer which allows them to edit and save files in each of those formats.

● Clients expect that Navigators do not share personal information, such as their personal email address or personal beliefs/opinions, with Users within completed reviews.
● Clients expect Navigators to leave an in-depth response that does not simply answer the User's question in a single sentence. Clients prefer Navigators who provide Users with detail and useful information in their responses.

● In-text Comments: In the event a User requests a Navigator to review a document they've attached (such as a supporting letter for an application), clients expect Navigators to leave sufficient in-text comments for each document along with a completed Response Form. The User's document should be copied/pasted to the bottom of the Response Form.
o [Clients prefer Navigators leave their in-text comments in brackets using a different color text.]
o Clients DO NOT want Navigators to leave margin comments or "track change" comments as not all Brainfuse Users can view these types of comments.
**If a file is submitted as a PDF and you cannot write on it or copy/paste the User's work, then you should leave all of your feedback in the Response Form. You can also encourage the User to submit their files as Word documents or RTF (rich text files) in the future, so they can receive in‐text comments.**
Accuracy: Clients expect that all feedback left for Users is accurate, and that Navigators double-check the accuracy of their feedback.
Submission Due Dates/Times: Submissions are ALWAYS due by the date/time indicated on the Submission Assignment.
Most clients expect a 24-hour turn-around from when the User submitted their question/document, although some clients have customized turn-around times that differ from this. With every Task, our clients expect Navigators to pay close attention to due dates/times and to return all reviews on time.
Returning Submissions
Once the Navigator has completed their response, they are ready to return it to the User. Once a response has been sent, it cannot be edited, so clients expect Navigators to carefully proofread their reviews for typos or grammar mistakes.
Saving Files: Brainfuse's clients expect Navigators to use the following naming convention when saving their files. The file should be labeled:
● [user_file_name]-TASKID
● Replace "[user_file_name]" with the User's original file name. This includes all spaces, symbols and misspellings! "TASKID" should be replaced with the Task ID number.
o For example, if the User submits a file named: "Application leter-5 . 8" and the Task ID number is 34567890, then the file should be named:
▪ Application leter-5 . 8-34567890
● If this naming convention is not maintained, an error message will appear!
● This naming convention ensures the correct file is sent to the correct User.
● If the User didn't attach a file and you are returning a document with a response, simply use Review in place of the [user_file_name] field.
● When sending back a document to the User, clients want the format to be the same as the one the User submitted. This means if the user submitted a .doc file, the Navigator needs to send back a .doc file, and not a .docx file. (To create a .doc file using MS Office 2007 or later, select "Word 97-2003 Document" as the file type.)

Uploading Completed Reviews:
● When your review has been completed, return to the Task in order to upload the file for the User.
● Clients expect the standard comment to be provided with every review. The standard comment is the following:
Thank you for using Brainfuse! Please see the attached for our comments and suggestions. If you have questions regarding your submission, please contact info@brainfuse.com.
● After you upload the comment and file for the User, select "Continue" to input the time spent on the review (see the previous section referring to Time Allotment) and complete the submission. Make sure to enter the time spent before completing the submission.
Additional Send Question Information
Overdue Submissions: Submissions that become overdue will be reassigned and the original Navigator may not be notified.
● Overdue submissions in the Navigator's Task Inbox will include an overdue submission notice. Submissions with these notes should be completed as soon as possible.
Submissions without Attachments: Sometimes a submission that was supposed to include a file (as mentioned by a User's comments) will not have a file attached to it, but that does not mean it can't be reviewed. Clients expect that Navigators review the User's comments carefully to decide the best way to proceed with the submission.
User forgot to attach an important document: If it appears that the User really did forget to attach a necessary document, Navigators usually leave a comment such as "Thanks for using Brainfuse. Unfortunately, you forgot to attach a document, so I cannot help you at this time. Please re-submit with your document attached, and we will be happy to help you."
User is asking a non-pertinent question: If a User is asking questions about Brainfuse services, the status of a submission assignment, or other administrative-type questions, Navigators should leave the task for Brainfuse staff to take care of. You can email curriculum@brainfuse.com to let Brainfuse know about the issue.
User put their question/document text in the comment box: Clients expect these submissions to be reviewed as normal. When returning the completed review, it is acceptable for the Navigator to request that the User upload their file instead of putting it in the comment box the next time they make a submission.
Files That Will Not Open: If a Navigator is unable to open a User's attachment, clients expect the Navigator to contact Brainfuse about the submission. Sometimes the issue is with the Navigator's computer and other Navigators or Brainfuse staff may be able to open the attachment. In this case, the submission will be reassigned to a Navigator who can open the file. Clients do not want Navigators to close these submissions without first double-checking with Brainfuse.
Contact Information: Send Question Center questions or issues should be sent to: curriculum@brainfuse.com.
PART III: Brainfuse User Interface
As Navigators, the Users that you assist through Brainfuse will primarily be connecting with you via the VetNow service, or via the JobNow/VetNow hybrid service. Below are images and descriptions of the services available in each, as seen from the User's perspective.
VetNow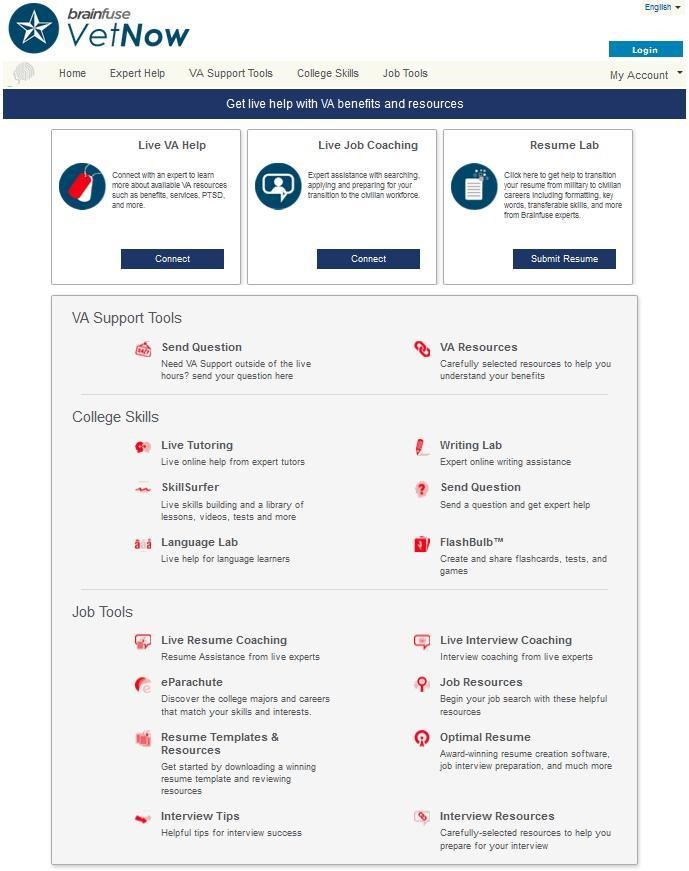 JobNow/VetNow
Brainfuse VetNow and JobNow/VetNow allows veterans to receive help with navigating the difficult path towards their benefits, and for job assistance services.
When the User clicks on HOME, they see the following service options:
● Live VA Help: choose this option to connect with a live VetNow Navigator.
● Live Job Coaching: choose this option to connect with a live Job Coach.
● Resume Lab: upload and submit your resume for feedback from Brainfuse's resume experts.
● Send Question: ask questions for feedback from Brainfuse's Navigators and Tutors. When the "Send Question" link under the VA Support Tools (or Tools for Veterans) header is chosen, Navigators will be able to reply to User's questions regarding veterans' concerns; when the same option is chosen under the College Skills header, Users may send a question to academic subject Tutors.
● VA Resources: Includes a list of links and other helpful content for veterans, including job boards and benefits information.
● Live Tutoring: choose this option, selecting a topic/grade level and a subject, to connect with a live Brainfuse Tutor.
● Writing Lab: upload and submit essays, short paragraphs, or any form of writing for feedback from Brainfuse Tutors.
● SkillSurfer (AKA LearnNow): All Brainfuse clients will have access to SkillSurfer, which allows users to access all of the text lessons, video lessons, quizzes, helpful links, and more that we have compiled. This will include all basic subjects up through High School, plus many additional topics, including higher level subjects, specialized test prep info, career-specific exams, and much more.
● Language Lab: connect to a language Tutor in a live session.
● Flashbulb: access and create interactive learning games/flashcards.
● LEAP Learning Platform: customized studying materials and academic lesson content based off of the results of introductory diagnostic tests. Includes materials on College Readiness, College entrance test prep, and more.
● MEET: allows Users to schedule a customized Whiteboard session, whereby they can invite multiple participants, including colleagues and peers from their schools or libraries, to share the virtual interface and work together in remote studying sessions.
● Brainwave: a single-User Whiteboard that allows Users to record notes using the interactive tools, play them back, and share them at any time.
● Live Resume/Interview Coaching: choose this option to get a live Resume or Interview Coach (specialized Brainfuse Job Coaches).
● eParachute: offers Users a place to create a profile and explore career-based opportunities and resources.
● Job Resources: includes local and national links to job boards and resources.
● Resume Templates & Resources: offers Users templates and tutorials for strong resume building.
● Optimal Resume: offers Users a place to create and design resumes, cover letters, portfolios, and more.
● Interview Tips & Resources: offers Users tips and tutorials for strengthening their interview skills.
● Unemployment Assistance: connect to an Unemployment Coach to get assistance in filling out your applications, receiving answers about available benefits and state-specific resources, and more.
The following items are found when a user hovers over their Username (AKA Brainfuse's "Account Features")
● CloudPack: allows Users to upload, create, and store documents directly to their Brainfuse account. Please note that if the Cloudpack is used, even though the link will not show up on the Navigator Whiteboard, the User will have to ask you to click the "Mark-Up" button so they can write on the Whiteboard. (Refer to the "Navigator Whiteboard" section for details.)
● Past Sessions: contains the full archive of all of the past sessions Users have in live assistance; Users can also print their chat transcripts from this page.
● Message Center: where Users see their Tutor, Job Coach, and/or Navigator responses after sending submissions or questions using the Writing Lab, Send Question Center, or Brainshare. The key difference between Brainshare, the Writing Lab, and the Send Question feature, is that Brainshare can be used during a live session.(In other words, Brainshare is the real-time exchange of documents via Whiteboard, while the Message Center provides access to the asynchronous Writing Lab and Send Question responses.)
● My Tests is where the User would find a full record of all of the tests selected and taken through the SkillSurfer, and other content-oriented sections of Brainfuse. Users can also retake a test from this page (the User will see a "Retake" button beside any applicable test).
PART IV: VETERANS' RESOURCES & ONLINE BEST PRACTICES
Brainfuse's experts (Tutors, Job Coaches, and Navigators) are hired based upon their expertise in given subject areas; as a Veteran Navigator, not only are you chosen for your already-proven knowledge of veterans and the V.A. (as well as other veterans'-specific services), but you are also expected to be able to provide Users with resources and information that can help them best assist themselves when they leave their sessions.
To assist you with some specific resources for our California-based clients, Brainfuse has also compiled the below Veteran Resource Directory (VRD). This is a live document that will be continually updated with nationwide and local resources for veterans and their families, broken down with state, county and local information, and categorized according to their available options. You can provide Users with any of these materials -- simply ask a User to let you know their City & State and check the document for any applicable links. These span several areas of focus, including local Veterans Affairs offices, V.A. medical centers, and other in-person and online resources in healthcare, education, housing, and more.
California Veteran Resource Directory
**Please Note: As part of Brainfuse's partnership with the California State Library and CalVet for their JobNow/VetNow program, Brainfuse's California-based clients expect Navigators to always provide any Users living in California with their County Veteran Service Office (CVSO) information. Please use the below link to find a User's relative CVSO, and provide them with this information as their first available option:**
- CalVet CVSO Directory (https://www.calvet.ca.gov/VetServices/Pages/CVSO-Locations.aspx)
General Online Support Best Practices & Guidance
Below you will find a collection of Best Practices, general FAQ's, and Guidance options with which to conduct your live sessions, based on commonly-accepted online industry standards. Based on the information found below and your subject expertise, please exercise your judgment while assisting a Brainfuse User.
Brainfuse partners with live project facilitators (AKA "Session Monitors") who look over live support sessions in real time for sudden spikes in User traffic. Live project facilitators can try to transfer Users who require new Navigators, or if the Navigator is stumped on a question (EX. if the User asks an academic question best suited to a Tutor).
Please note that live project facilitators are extremely tied up at all times with thousands of live sessions and do not have time for non-emergency issues.
1. When a user logs in to receive assistance, the standard, accepted greeting based on industry standards is "How can I help you?"
1. How do I know when I have temporary overflow of Users on the Navigator Whiteboard?
An additional Whiteboard tab with the Brainfuse User's name will appear in the upper-right corner. There will also be a "cuckoo" alert sound upon the User's arrival, so it is highly recommended that you keep your volume at maximum level at all times.
2. What are some of the recommended ways I can handle user overflows?
It is distracting for Brainfuse Users to hear about other Users; based on industry standards, you can do your best tabbing between different Whiteboards until the overflow slows down. Our live project facilitators will do their best to transfer behind-the-scenes, so it is recommended that you do your best to help the extra User(s). Trying to message the live project facilitator will only slow down the transfer process.
3. Based on widely-accepted industry standards, Brainfuse will exercise its discretion in terminating the live support contract with the Navigator if the Navigator engages in the following:
● Having personal conversations with Brainfuse Users, project facilitators, and other Brainfuse staff while working.
● Asking a Brainfuse User for personal information (an email address for example), or exchanging your own personal information with a User. (It is appropriate to request general location information from a User -- City and/or State, for instance -- for the purposes of providing resources and similar information.)
● Sending inappropriate links to a Brainfuse User.
● Contacting a Brainfuse User outside of the live session.
5. It is part of Best Practices to notify a User at least 15 minutes prior to logging out. There usually is a live project facilitator available on weekdays between 2:00 PM ET – 1:00 AM ET, who can try transferring the Brainfuse User to another Navigator upon request. On weekends, facilitators begin at 3:00 PM ET.

4. When assisting users through video sessions, clients expect Navigators to:
a. appear professional;
b. maintain a professional, non-disruptive environment;
c. remove any offensive or non-professional items so they remain out of sight in a video session;
d. ideal backgrounds while hosting video include: blank/empty walls, bookcases with appropriate material, office backgrounds, and other neutral backgrounds such as a city/town/street or backyard view.

5. What should I do about Brainfuse users who ask non-Veteran support questions?
You should make note of the User's username and questions, and send this information to curriculum@brainfuse.com after your session is done. We recommend that you not address questions about Brainfuse access hours, as they vary by client.
6. How do I get rid of the End of Session Report that pops open when I try to exit the Navigator Whiteboard?
Simply check off the small box and type in "Done".
7. I received a message saying that there is a new message in my inbox but when I check, nothing is there. What does this mean?
This means that another Navigator has accepted the veteran's submission (sent through the Send Question feature) before you.
8. A Brainfuse User is extremely vulgar/using profanity/not using Brainfuse for its intended purpose, etc. What are my options?
We suggest that you inform the User that all sessions are recorded and can be reported to administrators. If the behavior escalates, try notifying the Brainfuse live facilitator. If there does not appear to be a live facilitator, then you can ignore the User. If you happen to get the same abusive User repeatedly and experience the same issues with the User, you can notify curriculum@brainfuse.com. Note that there is not much that Brainfuse can do, since we do not collect personal information. We recommend not taking the User comments and behavior personally. We care about customer service in veterans' support and our veterans/Users are our customers/clients.
9. Can Brainfuse Users access Brainfuse via a mobile app?
Yes - specifically, Brainfuse HelpNow Users can access the services via the Brainfuse HelpNow App, available through both the Apple Store and Google Play Store, as shown below.
https://itunes.apple.com/app/brainfuse/id575242780?mt=8
https://play.google.com/store/apps/details?id=com.brainfuse.android
10. Even if you opt for direct deposit, the first check is always manually mailed.
11. The Send Question Center and Brainshare are two separate things, and they are not interchangeable.
During a live session, a User sends their documents to a Navigator via Brainshare. The Navigator should actively review elements of the document with the User during the live session. All assistance on that document must be completed during the live session, and if the Navigator has anything to send back to the User, they need to send it to the user via Brainshare before the live support session is over. Clients do not want Navigators to send documents to Users after a session has ended.
Users can also submit questions/documents via the Send Question Center for Navigators to review. When a user submits a question/document, that document is sent to all available Navigators for a Navigator to accept. Navigators must finish the review by the indicated due date/time on the task assignment, and return the review to the User through the Send Question Center.
12. When a User asks for a document (such as a resume) to be reviewed, clients expect that Navigators do the best they can to actively review the document with the User on the Whiteboard. Clients do not want Navigators to review the document without User input, or to tell Users that Navigators cannot review a document during a live session. At the end of a session, it is acceptable to suggest that the User submits their document/question to the Send Question Center if they would like additional help.
13. Navigator scheduling depends on a variety of factors:
- Navigator availability.
- How proficient the Navigator is in his/her area of expertise.
- How advanced the Navigator is in his/her area of expertise.
- Client demand. (Peak hours are usually in the evenings, but we also require Navigators in the mornings and early afternoons.)
14. On Transferring: Clients expect Navigators to handle the veterans that are routed to them. If you need to request a transfer, the facilitator will ask for the reason. To request a transfer, access the "Session Monitor" link under the Fan icon of your Navigator Whiteboard (see "Navigator Whiteboard" section for reference image). Keep in mind, though, that the facilitator will not always be available.
15. Inactive guests: If a Navigator has an inactive user for an extended period (>30 minutes), they can notify the facilitator to have the user removed. Navigators should not try to "remove" problematic Users (verbal harassment, inappropriate content, etc.), but instead ignore them and inform the facilitator.
16. If a User logs in under an incorrect or unrelated subject/topic (for instance, for an academic topic or Job Coach-oriented question), please ask them to leave the session and select the correct area of the page for their form of assistance. (You can refer to Part III of this Guide for the respective areas of the Brainfuse User Interface: "Live Tutoring" for academic questions, or "Live Job Coaching" for professional ones, if available.) If the User says the better-suited subject does not exist, please direct them to info@brainfuse.com for further information. (Not all Users have access to the same topics/subjects under Live Help, as these can vary by client institution.)
17. All live veteran support must be completed within QuickConnect. Navigators should not contact Users via the Inbox tool, or outside of Brainfuse. Navigators are not to respond to Users who send messages through the Inbox.
18. When a Navigator gets a question on what kind of training they receive from Brainfuse, or how they qualify to work for Brainfuse, the Navigator needs to defer those questions to the office. Inform the User that the inquiry has been noted and forwarded to the appropriate departments. You can then jot down their username and send it to curriculum@brainfuse.com for the office to follow up.

19. General Brainfuse Contact Information:
- For payment issues, email payroll@brainfuse.com
- For scheduling issues, email schedule@brainfuse.com
- For technical issues, email support@brainfuse.com
- For other questions, email curriculum@brainfuse.com